Dublin Plein Air 2019 Workshops
2019 Workshop Artists are :  Una Sealy RHA | Claudia Araceli | Vicki Norman | Dave West  | Neal Greig ARUA | Blaise Smith R.H.A
You can join these workshops to learn and improve your painting technics. This year as every year, we have some masters of their art and our plein air artists will share their tips of the trade with you during the workshops.
Festival dates are 17th – 23rd June 2019
Please Note – You must have already paid the Artist Registration or pay it now before you can join any workshops etc. Times and dates for workshops may change due to unforeseen circumstances.

Una Sealy RHA Workshop 2019
Monday 17 June – Skerries – 2 to 5 pm

Una Sealy RHA is an Irish artist based in Fingal, County Dublin. She paints domestic interiors, streetscape, landscape and portraiture. She paints from observation and often the compositions evolve organically, with elements appearing and disappearing before the final arrangement is arrived at. The works form a kind of visual autobiography.

Paul D'Arcy – Introduction to Plein Air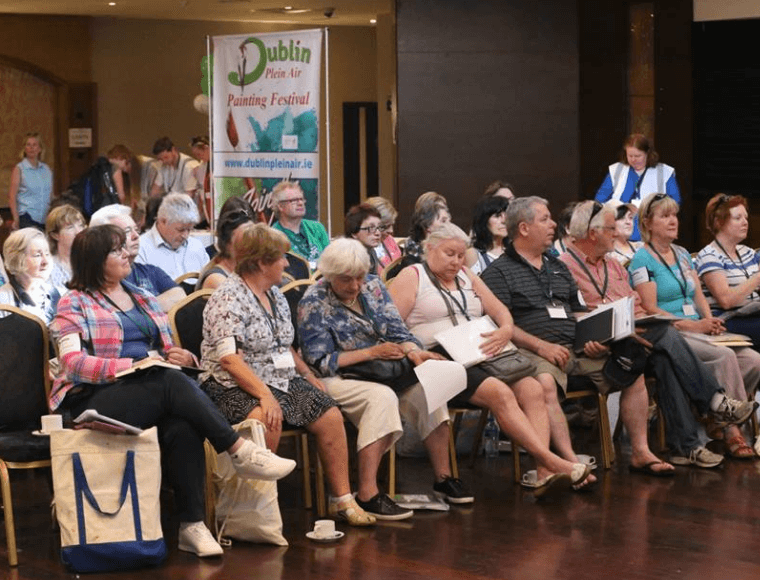 Monday 17 June – Skerries – 10 to 11 am

Paul will discuss equipment and the best way to approach working out doors. The talk which is free to attend is aimed at those people who are new to painting outdoors (en plein air). Any registered artist may attend.

Claudia Araceli Watercolour Workshops 2019
Tuesday 18th June – Swords – 10 am to 1 pm

I am an artist with a passion for watercolour painting. I prefer to paint 'plein air' and do so all year round, which is not a problem if you are prepared accordingly. There is no doubt that watercolour is the most challenging of all mediums but I admit this is exactly what attracts me to it.   I feel watercolour is at its best when you allow it some freedom to do what it wants to do naturally, by contrast it's at it's very worst when forced to behave. I have found it is a matter of learning and understanding how to walk a fine line between both.
I am often asked what inspires me, the simple answer is the energy, atmosphere and light of somewhere or something! I can only say that I have no clue what will inspire me in any given moment, I don't think about subject matter because I am not bothered about this. I simply drive around until whatever it is catches my attention.

Vicki Norman Workshops 2019
Wednesday 19th June – Malahide Castle – 2 to 5 pm

I just love paint.
And I love to travel. And to teach other people to paint.
That's it really.
My fondness for travelling and painting has naturally led me into the world of Plein Air painting. Working quickly on location to capture the essence of a time and place encourages a looser, more impressionist style of painting. This puts an emphasis on atmosphere rather than detail, and colour is the vehicle through which I seek to capture light and place. Colour is everything, the harmony of colours together on the canvas and the thick, creamy blobs of paint on the surface inspire me every time. I really do just love paint and I love making paintings. So, being an ambassador for Michael Harding Oils is really great for me, because he makes the best paint in the world.

Dave West Workshop 2019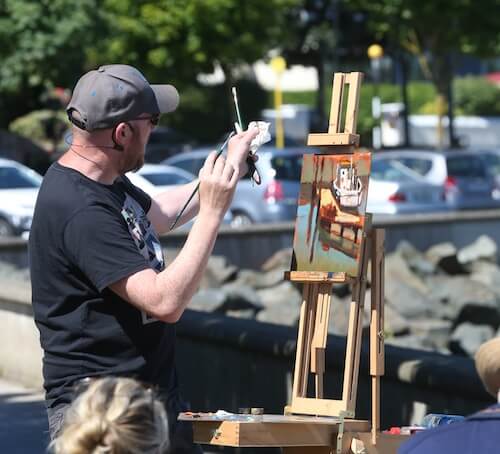 Thursday 20th June – 12th Lock Blanchardstown – 10 am to 1 pm

Dave West is gifted across a number of media, his pastels are recognised internationally and his plein air oil paintings tempting the visual senses with the atmosphere he creates in his work. He has been teaching for many years in both mediums.
Dave was born in Wales and is now settled North County Dublin. He studied at the Carmarthenshire College of Art & Design. His solo exhibitions including 'Nocturama' at Draiocht Arts Centre, 'Spectral' at the Leinster Gallery and 2 with the Blue Leaf Gallery. He has exhibited widely in Group Shows including the Royal Hibernian Academy, Royal Ulster Academy and Eígse, and in the UK with the Royal West of England Academy, Royal Society of Oil Painters, Royal Society of Marine Artists, The New English Art Club, The Royal Society of British Artists, and the UK Pastel Society, at which he won the 2013 Schminke Award.

Neal Greig Workshop ARUA 2019
Friday 21st June – Donabate – 10 am to 1 pm

Neal Greig was born in Belfast in 1965.  He studied BA Hons in Fine Art at Edinburgh College of Art from 1983 -1987 then went on to a Post Graduate in Drawing and Painting 1988 – 1989 he was awarded  The Andrew Grant Scholarship for Post Graduate Study.
In 1991 he was Artist in Residence at the Tyrone Guthrie Centre .  Neal has been awarded residencies namely The Vermont Studio Centre Fellowship in Vermont USA , Ballinglen Fellowship, O'Reardon House Fogo Island Newfoundland , Invited Artist with Ontario Art Society Field Trip, Cill Raillig Art Studios.

Blaise Smith R.H.A Workshop 2019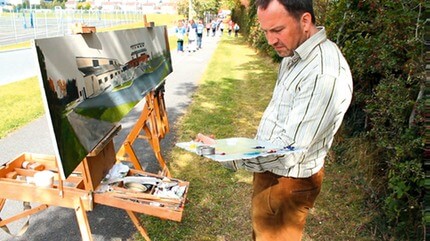 Saturday 22nd June – Farmleigh House – 10 am to 1 pm


Blaise Smith has painted outdoors for many years and is known for his focus on the vernacular sheds and farmyards of the Irish country side. His paintings, up to eight feet wide, are painted on the spot over months and years and many are now in national collections such as the OPW and various County Councils. He recently completed a five metre (16 foot) wide panorama of Waterford City which now hangs in the City & County Hall. He also really enjoys the challenge of painting small landscapes in one sitting.
He is an elected member of the Royal Hibernian Academy and teaches at the RHA drawing School where he is Vice Principal.

Quick Paint Competition
Sunday 23rd June – Balbriggan – 2 to 4 pm
This is a fun 2 hour competition for participating artists held during the day. All monies raised go to the Cystic Fibrosis Ireland
There are three prizes awarded to participating artists.

Please Note – You must have already paid the Artist Registration or pay it now before you can join any workshops etc.

Artist Registration ? 
Please Note – You must have already paid the Artist Registration or pay it now before you can join any workshops etc