Ireland is a country with a rich cultural heritage and breathtaking natural beauty. June is an ideal time to visit the Emerald Isle, as the weather is usually mild and the greenery is lush. An outdoor painting holiday is a perfect way to immerse yourself in the beauty of the Irish countryside and capture it on canvas and Dublin Plein Air painting festival offers workshops from renowned artists who provide guidance and tips to help you improve your painting skills.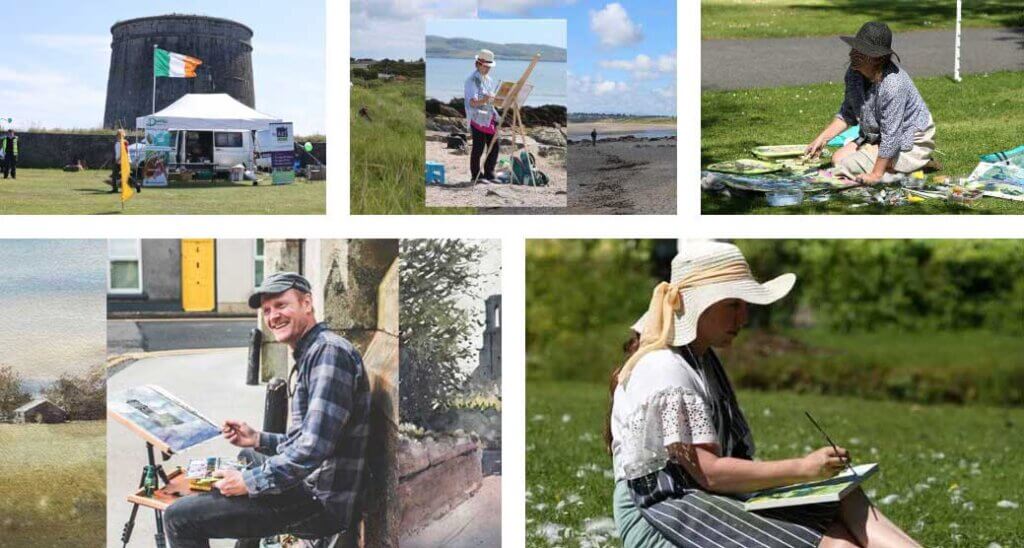 One of the most appealing aspects of an outdoor painting holiday in Ireland is the abundance of stunning landscapes to paint. From rolling hills to rugged coastlines, there is something for everyone. Ireland is particularly renowned for its dramatic landscapes, with rugged cliffs that are perfect for capturing in a painting. Another great advantage of an outdoor painting holiday is the opportunity to spend time in the great outdoors. Fresh air and natural light can help to energise and refresh the spirit, making it easier to focus on the task at hand.

The Dublin plein air festival is Ireland's premier outdoor painting festival and one you should put in your diary.
Whether you're a seasoned painter or a beginner, taking time to paint in the open air at the Dublin Plein Air painting festival can be a truly enjoyable and rewarding experience. The experience is made even better by the warm and welcoming hospitality of the Irish people. From quaint country pubs to traditional music sessions, there is no shortage of opportunities to get to know the locals and learn about their culture. You will also have the opportunity to sample some of the delicious local cuisine and of course, a creamy pint of Guinness if you wish.
Here are some reasons why our outdoor painting holiday in Ireland in June can be a joyful experience:
Artist Workshops
At Dublin Plein Air painting festival we offer workshops from renowned artists who provide guidance and tips to help you improve your painting skills.
Natural Beauty
With its rolling hills, tranquil lakes, and dramatic coastline, Ireland offers plenty of stunning natural scenery to paint. You'll find plenty of inspiration in the rugged beauty of the Irish coast or the tranquil countryside dotted with sheep and cattle.
Changing Light
Ireland is known for its changing weather and the light it creates. June is the perfect time to capture the soft, diffuse light that can be found in the morning and late afternoon, as well as the brilliant golden light of a summer sunset.
Unique Architecture
Ireland is also rich in history and architecture. From the medieval castles and Gothic cathedrals to the thatched-roof cottages and colourful homes, there are plenty of buildings to paint.
Inspiring Communities
The small towns and villages of Ireland are filled with character, with their lively pubs, local markets. They provide a rich source of inspiration for all artists.
Relaxation
Spending time in the outdoors, surrounded by natural beauty and away from the distractions of daily life, can be incredibly relaxing and rejuvenating. An outdoor painting holiday in Ireland provides an opportunity to disconnect and focus on your art.

Artist information
Our painting festival offers the right combination of natural beauty and ease of accessibility. We have all the information you would need to visit festival here on our website.
Look at our Artist information page to find | Travel Links | Car Hire | Accommodation | Art Supplies |


We hope you will join our outdoor painting festival in June for a joyous experience, surrounded by stunning natural beauty, rich cultural heritage, and inspiring communities.